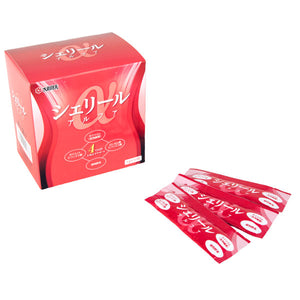 Description
SHARIR α is powdered food that contains fermented plant extract from more than 100 kinds of vegetables, fruits, and seaweeds including psyllium which is native to India and rich in dietary fiber.
It also contains live bifidobacterium longum which is resistant to gastric acid and is a good bacteria which promotes the health of your intestines, as well as bifidobacterium B-3 (*) and spore forming lactic acid bacteria

Features
Blended our fermented plant extract of over 100 kinds of vegetables, fruits and seaweeds
Contains psyllium native to India, rich in dietary fiber.
Contains 5 billion live bifidobacterium longum which is resistant to stomach acid and is a good bacteria in your intestines, 5 billion live dietary bifidobacteria, and 100 million spore forming lactic acid bacteria.

* Bifidobacterium B-3 (patented component):
It is a live good type of  bacteria derived from humans that has been carefully selected from many types of bacteria.
Together with psyllium (dietary fiber) and bifidobacterium longum,  SHARIR α supports an ideal thriving bodily environment.

The "diet" of "diet Bifidobacterium B-3" doesn't refer to losing weight, but refers nutritional content.
Recommended for the following persons
Who want to maintain a healthy intestinal environment

With insufficient vegetable intake

Who want to lose weight
How to Consume

First take a mouthful of liquid, such as water, and then add Sharir α. Mix in your mouth a little, and swallow. Next, drink sufficient liquid (about 200ml).
Dilute with 200ml of any liquid of your choice, such as water, kouso drink, vegetable juice, milk, etc. then drink

Add the contents of one package to 100ml of liquid. Stir well, and let sit for a while. The product will thicken, becoming "Sharir Jelly".

Psyllium fiber expands to between 30 and 50 times its original size in your stomack, so it creates a feeling of fullness. Recommended for diets to lose weight as well.
Storage Method
Store unopened in a cool and dark place, out of direct sunlight.
Processed food containing enzymes, Lactobacillus and Psyllium
■ Contents
5g x 30 packets
■ Ingredients
Psyllium (Dietary Fiber), Lactose, Fructose, Lactosucrose, Plant Fermentation Extract, Glucose, Bifidobacterium(Bifidobacterium longum, Bifidobacterium Breve B-3), Enterococcus Faecali, Spore Forming Lactic Acid Bacteria(LACRIS), Bifidobacteria Metabolites, Indigestible Dextrin, Trehalose, Vitamin C, Vitamin E, Licorice, Citric Acid

Contains:
Milk, Yam, Apple, Kiwifruit, Peach
■ Nutritional Information
Per one packet (5 g) :
Energy / 8.5 kcal Protein / 0.04 g Fat / 0 g Carbohydrate / 2.1 g Dietary Fiber / 2.7 g Sodium/2.3 mg

Bifidobacteria (Bifidobacterium Longum) / 5 billions CFU
Bifidobacterium Breve B-3 / 5 billion CFU
Enterococcus Faecalis / 3 billion CFU
Lactic Acid Bacteria (LACRIS / 100 millions CFU

---
Do not add to hot water over 60°C. This will decrease the activity of the enzymes and lactic acid bacteria.
Do not store in areas with high temperature or humidity, or in direct sunlight as it does not contain any synthetic preservatives or antioxidants.
Drink promptly after opening the individual seal and packet.
For persons with chronic constipation, perform an enema to discharge any hardened stool before drinking SHARIR α.
When taking this product, be sure to drink plenty of liquids. Not recommended for persons with difficulty swallowing, elderly persons, or children.
In rare cases, persons who work (preparation/manufacturing) in regular direct contact with psyllium may experience a hypersensitive reaction such as itchiness or skin rash.
Eat a balanced meal of staple foods including a main dish and a side dish.