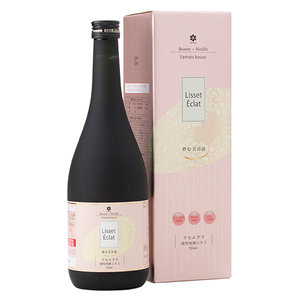 Description
LISSET ÉCLAT is fermented plant extract produced for beauty salons. Lavishly blended with placenta, hyaluronic acid, proteoglycan, collagen peptide, pomegranate juice, etc.
Made with seasonally fresh 100% domestically produced plant materials (more than 100 kinds of fruit vegetables, leaf vegetables, root vegetables, fruits, beans, mushrooms, grains, seaweeds, herbs) and carbohydrates (raw sugar, etc.)
Plant enzymes and nutrients of these plant materials were extracted by adding and fermenting effective microorganisms such as koji, yeast and lactic acid bacteria.
In addition, the beauty ingredients are luxuriously formulated.
Features
Uses over 100 kinds of vegetables, fruits, seaweeds, and herbs
Luxurious combination of placenta, hyaluronic acid, proteoglycan and collagen peptide
Ginger extract which warms your body.
Sweet and sour like fresh juice
Aging period is 2 months to 1 year. Plenty of fresh nutrition such as vegetables and fruits
Not only nutritional ingredients such as minerals contained in plants and carbohydrates used, but also useful ingredients produced during the enzyme fermentation process and nutritional ingredients such as vitamins and amino acids
Recommended for the following persons
With insufficient fruit and vegetable intake

Concerning about eating habits and nutritional balance

Persons with many food dislikes

Who want to maintain a healthy body

Who want to stay beautiful

How to Drink
Drink the recommended 30ml as is, or dilute with cold or lukewarm water (less than 60℃).

Can be mixed with other liquids such as fruit juice, milk, etc. to create a delicious drink.

Please drink the recommended amount 1-3 times a day.
Storage Method
Store unopened in a cool and dark place, out of direct sunlight.

After opening, close the cap and store in the refrigerator.
[ Caution when storing ]
Please be sure to store the liquid fermented drink in refrigerator after opening.
If left out in normal temperatures after opening, it may bubble over.
Impurities (cloudiness) and sediment in KOUSO fermented drink

Seasonal, natural plants are used as raw material for the KOUSO fermented drink. As a result, the color and taste of the product may vary slightly according to the season. This does not affect quality.
Moreover, from the nutritional viewpoint, as much dietary fiber and microorganisms (such as yeast and lactobacillus) should be retained in the KOUSO fermented drink. Consequently, fiber fragments from the raw material, impurities and sediment derived from mineral crystals may be observed.

However, this does not affect quality, please drink it without worries. Imagine it as the same as the sediment (lees) in red wine and unrefined sake. If you notice some sediment, tighten the cap and turn the bottle upside-down a few times. (never forcefully shake the bottle).
Plant extract fermented drink (vegetable, fruits, and seaweed processed foods)
■ Contents
720 ml
■ Ingredients
Vegetables (Tomato, Eggplant, Pumpkin, Cucumber, Wax Gourd, Bitter Gourd, Okra, Watermelon, Bell Pepper, Corn), Leafy Vegetables (Cabbage, Napa cabbage, Crown Daisy, Leaf Lettuce, Spinach, Lettuce, Bok Choy, Mitsuba, Asparagus, Broccoli, Field Mustard, Parsley, Celery, Cauliflower, Mustard Spinach, Perilla, Taro Stem), Root Vegetables (White Radish, Turnip, Ginger, Udo, Japanese Potato, Yam, Potato, Japanese Yam, Wild Yam, Sweet Potato, Carrot, Lotus Root, Taro, Burdock, Lily Bulb), Fruits (Apple, Quince, Loquat, Plum, Strawberry, Chocolate Vine, Kumquat, Apricot, Sudachi, Fig, Mandarin Orange, Iyokan, Kiwifruits, Persimmon, Peach, Cherry, Melon, Grapes, Japanese Plum, Pear), Grains (Kidney Bean, Snow Pea, Fava Bean, Brown Rice, Unpolished Rice, Barley), Seaweeds (Kombu, Wakame, Green Laver, Hijiki, Dried Laver Seaweed, Mozuku, Gelidiaceae), Mushrooms (Shiitake, Shimeji, King Trumpet Mushroom, Cloud Ear Mushroom, Grifola Frondosa, Mushroom, Enoki), Herbal Medicines (Psyllium, Dandelion, Sasa Veitchii, Clover, Spotted Laurel,Chickweed, Saxifrage, Japanese Agrimony, Achyranthes Fauriei, Field Horsetail, Japanese Knotweed, Dropworta Japanese Parsley, Mugwort, Persimmon Leaves, Pine Needles, White‐Cedar Leaf, Matrimony Vine Leaf, Mulberry Leaf), Plum Extract, Brown Sugar, Raw Sugar, Maltose, Glucose, Indigestible Dextrin, Galacto-Oligosaccharide, Ginger Extract, Collagen Peptide (Derived From Fish), Pig Placenta Extract, Pomegranate Juice, Xylooligosaccharide, Ultra Low Molecular Weight Hyaluronic Acid, Proteoglycan (From Salmon's Nasal Cartilage), Bilberry Extract, Aspergillus oryzae, Yeast, Lactic Acid Bacteria / Vitamin C, Calcium Pantothenate, Folic Acid
Contains: GELATIN
■ Nutritional Information
Per one recommended serving (30 ml) :
Energy / 42 kcal Protein / 1.1 g Fat / 0 g Carbohydrate / 11.6 g Salt Equivalent / 0.03 g
---
Seasonal, natural plants are used as raw material for the KOUSO fermented drink. As a result, the color and taste of the product may vary slightly according to the season.
Minute vegetable fiber fragments and sediment, which cannot be filtered out during the manufacturing process, might be observed.
Eat a balanced meal of staple foods including a main dish and a side dish.