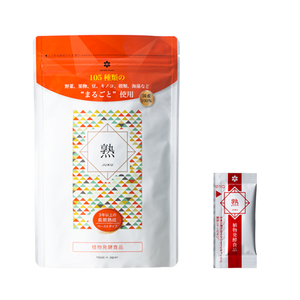 Description
JUKU is fermented plant extract paste made from 105 kinds of vegetables, fruits, etc. which fermented and aged with our traditional fermentation starter. The entire botanical materials are fermented and aged.
Please enjoy this delicious paste that balances refreshing acidity and sweetness, resulting in a very deep rich flavor.

It is convenient to carry because it comes in a small package.
Features

Ingredients
Using over 105 different "whole" plant ingredients which are domestically produced.

We use over 105 different kinds of "whole" 100% fresh, seasonal, and domestically produced leafy vegetables, root vegetables, fruit vegetables, fruits, beans, various mushrooms, grains, seaweed, and herbal medicines. In order to utilize the maximum nutrition and health benefits of the ingredients, the skins and seeds are used in their entirety. This allows for better absorption of nutrients such as vitamins, minerals, and polyphenols that are often lacking.
Fermentation Starter
plant extracts are fermented and aged for over 3 years using Yamato Kouso's traditional fermentation starter to create JUKU.
Our traditional fermentation starter is a treasure trove of Koji, yeasts and lactic acid bacterium that have been carefully selected out of a large number of microorganisms following many years of fermentation.
Absorption
Fermentation and aging makes it easier for the body to absorb nutrition. Ingesting ingredients such as vegetables, fruits, mushrooms, seaweed, and grains does not mean that all the nutrients of the ingredients can be absorbed. This is because the cells of the matereial are covered with a hard cell wall that cannot be degraded by human digestive enzymes. The nutrients of the materials and nutritional molecules such as vitamins, minerals, and polyphenols are found inside the cell wall, bit humans cannot digest and absorb the nutrients in the cell wall unless they can get inside. In the process of fermentation and curing, microorganisms and enzymes change the nutrients of the material into finer and more nutritious ones while destroying the cell walls. Through fermentation and curing, JUKU is born, the form that makes it easy for us to digest and absorb the ingredients rich in nutrients to the maximum extent.
Rich and strong
No water is added.
Because no water is added, the nutrition of the material is densely packed. Finished your meal with a tasty, firm and delicious paste that balances refreshing acidity and sweetness.

Assurance
No preservatives, artificial sweeteners, or flavorings
Easy to carry package
Because it is convenient to carry, it is easy to enjoy even when you are on the go, such as on business trips, travel, work, or going out.

Recommended for the following persons
With insufficient fruit and vegetable intake

Concerning about eating habits and nutritional balance

Are concerned about the nutritional balance of children
How to Take
Open a packet and take it as is.

Please drink the recommended amount 1-2 times a day.
Storage Method
Store it in a cool and dark place, out of direct sunlight.

After opening, close the cap and store in the refrigerator.
Fermented Botanical Extract Paste (vegetable, fruits, and seaweeds processed foods)
■ Contents
3 g x 31 packets
■ Ingredients
Leafy Vegetables (Napa Cabbage, Cabbage, Crown Daisy, Leaf Lettuce, Spinach, Bok Choy, Lettuce, Broccoli, Field Mustard, Cauliflower, Mustard Spinach, Celery, Asparagus, Mitsuba. Perilla,  Parsley, Taro Stem), Root Vegetables (White Radish, Carrot, Turnip, Ginger, Potato, Sweet Potato, Burdock, Japanese Potato, Yam Potato, Lotus Root, Japanese Yam, Wild Yam, Udo, Taro, Lily Bulb), Vegetables (Tomato, Pumpkin, Wax Gourd, Eggplant, Cucumber, Bitter Gourd, Okra, Watermelon, Bell Pepper, Corn), Fruits (Apple, Mandarin Orange, Persimmon, Peach, Quince, Loquat, Plum, Kumquat, Kiwifruit, Strawberry, Chocolate Vine, Apricot, Sudachi, Fig, Iyokan, Cherry, Melon, Grape, Japanese Plum, Pear), Lactulose (Milk Oligosaccharide), Brown Sugar, Beans (Kidney Bean, Snow Pea, Fava Bean, Soybean, Black Soybean, Red Bean), Mushrooms (Shiitake, Shimeji, King Trumpet Mushroom, Cloud Ear Mushroom, Grifola Frondosa, Mushroom, Enoki), Grains (Black Rice, Brown Rice, Barley, Naked Barley, Red Rice), seaweeds (Kombu, Wakame, Green Laver, Hijiki, Dried Laver Seaweed, Mozuku, Gelidiaceae), Herbal Medicines (Plantago, Dandelion, Sasa Veitchii, Clover, Spotted Laurel, Chickweed, Saxifrage, Japanese Agrimony, Achyranthes Fauriei, Field Horsetail, Japanese Knotweed, Dropworta Japanese Parsley, Mugwort, Persimmon Leaf, Pine Needles, White-Cedar Leaf, Matrimony Vine Leaf, Mulberry Leaf), Indigestible Dextrin, Caster Sugar, Plum Extract, Soybean Peptide, Psyllium Seed Husk, Ginger Extract, Rice Miso (Soybean, Rice, Salt), Aspergillus oryzae, Yeasts, Lactic Acid Bacteria

Contains:
Yam, Apple, Kiwifruit, Peach, Soybean

■ Nutritional Information
Per 100 g :
Energy / 260 kcal Protein / 2.9 g Fat / 0 g Carbohydrates / 65.9 g (Carbohydrate / 58.3g    Dietary Fiber / 7.6g) Sodium Chloride Amount / 0.3 g
---
Seasonal, natural plants are used as raw material for the enzyme drink. As a result, the color and taste of the product may vary slightly according to the season.
Minute vegetable fiber fragments and sediment, which cannot be filtered out during the manufacturing process, might be observed.
Eat a balanced meal of staple foods including a main dish and a side dish.